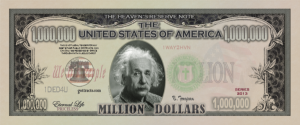 Increasing Annual Gain by $1,000,000!
I have been to a number of meetings with controllers, CFOs, and the owners of auto dealerships. They always and naturally think I will try to sell them on a check guarantee program beating another company's rate. The other company often happens to be the big elephant in the room, "Telecheck."
While I could appreciate the energy in the room and the expectation of a lower rate, I don't sell on rates. I never have. I am a professional consultant not a starter salesman. And I make that clear to them so I set the record straight. That sincere strategy always helps them re-calibrate their mindset. It takes their mind off a lower rate and refocuses is on what I can do to help them sell and lease more cars, retain otherwise lost customers, increase revenue through sales of parts and service, and save money on collection costs, labor, and a more streamlined operation.
Cheap is always cheap.
I ask for how many new cars and used cars they sell and lease. I ask if their general sales managers recommend check guarantee as opposed to credit cards, the real answer to which is almost always no. And I ask if they would like to see happier sales people, the answer to which is always yes.
Telecheck is owned by First Data, the largest processor of credit cards in the U.S. However, there are factors that make using Telecheck far more expensive than it should be.
Telecheck has a large negative database of bad check writers. This database is not updated every day. These two factors increase the decline rate.
Telecheck does not offer collection services in-house. The bad checks will be sent back to the dealerships or their designated collection company. The delay in getting paid and the collection and possible legal costs will be another tax on the dealership. I have seen managers of some substantial multi-location dealerships who told me they hate going to a customer's house and collect on their bad check!
Telecheck is offered usually as an add-on to credit card processing service, which is where First Data and the representatives derive their most revenue. Sometimes the credit card processing does not generate a profit, but the overall processing volume drives the processor's annual volume up.
Collection costs eat up the profit.
The dealership risks being sued if it is not familiar and compliant with state and federal collection laws.
Paying visits to customers whose checks bounced is a mutually unpleasant experience. The dealership risks upsetting the customer, getting bad rating from them, and lose even more by spending its resources on locating and repossessing the vehicles.
Many managers do not recommend writing checks for a down payment on a purchase or lease because of the aftermath of a bounced check. This factor alone can have a great, yet not noticeable, impact on the number of cars moved off the lot.
What is the solution? Bear with me for a few seconds.
In my comprehensive assessment, I ask for all monthly check guarantee statements for the past 3-6 months. I always find out there are locations not using the check guarantee service as much as they should or losing sales and then being told right on the statement those amounts are "savings!" Not so fast! Those amounts were indeed not savings; They were lost opportunities to make a sale happen, and the greater loss of losing a customer to a competitor. I know those check writers most likely did not make the purchase from the dealership because their current check guarantee company would not be approving a declined customer until they cleared out a previously bounced check first. That takes time. Only in rare circumstances may the luck turn in that car buyer's favor. I call it "divine intervention!"
I also inquire about how many customers the sales managers think walk out not buying a car because they could not afford it, the collection fees paid to a collection agency, a detailed report on that activity, any legal fees, and the administrative count, time, and their wages spent on collection for the past 12 months. I plug in all the numbers into a specially designed spreadsheet, and provide a full report on the current loss versus the potential savings with an acceptable margin of error.
Moreover, the consolidated and daily reports on all checks we offer, both on guaranteed and insurance and non-guaranteed, makes the job of every controller easier: future checks are reported only when they are put through the system for payment and paid to the dealership for that day, resulting in streamlined accounting and elimination of confusion. This is extremely valuable and indispensable.
Another value proposition is the elimination of trips to the bank for daily deposits and (possible) employee theft by automating the entire process. Those dealerships who use armor carrier service to carry their checks will benefit by the electronic imaging and usually next-day availability of funds instead of having to wait until the checks reach their bank after a few days.
In one prime example, I determined that a 14-location car dealership could benefit about $1,000,000 (one million) dollars more annually using EFT Direct's service on their entire operations: new and used car sales, new car leasing, parts and service, and COD. I increased their current rate on both single check and multi check. So, although the rate was slightly higher than their then-current check guarantee company, I was able to offer far greater benefits, a true win-win-win situation. Remember when I said cheap is cheap? Their current low rate was low, but it was not offering what it should have. It was costing them a lot of sales, loss of revenue on NSF checks, extra labor and administrator time on collection, greater churn of their sales force who need to sell cars to survive, spending more on training new sales professional–a cost of nearly $10,000, and lower rating of their Consumer Satisfaction Index (CSI), which is very important to every dealership, and to some a lifeline of sorts, and more.
The same is true for other high-ticket businesses such as home furnishings, building supply, plastic and maxillofacial surgery clinics, medical, dental, veterinarian, and specialty retail.
We know you may not make $1,000,000 dollars more if you do not own 14 auto dealerships. But check guarantee can still potentially increase your business and revenue. Most people still have a check book connected to their check cards. This is the topic of my next article. I will explore the myth that check writing is out of style.
Alex Nouri, CPP, Author
For further inquiry, please call or send a message by clicking here.
Increasing Annual Gain by $1,000,000!