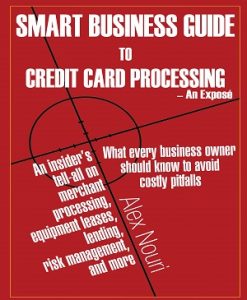 "SMART BUSINESS GUIDE TO CREDIT CARD PROCESSING"
"What every business owner should know to avoid costly pitfalls. 
An insider's tell-all on merchant processing, equipment leasing, lending, risk management, and more."
This book has been called "The Nuclear Bomb," "Astounding," "Indispensable", "The Best Guide to Save Money," and more.
Never-before released information on merchant cash advance, small equipment leasing, risk management, EMV (chip processing) and its flaws and poor execution, and more. It contains a clear road map on what to do to avoid issues and the steps to take if defrauded. This book will educate merchants, consultants, CPAs, CFOs, lawmakers, law enforcement,prosecutors, and lawyers about the many practices in credit card processing industry. It empowers and puts the business owners on the driver's seat.
Commendations
"Alex Nouri exposes many of the deceptive and unfair trade practices all too common in today's credit and debit card payment industry. Business and organization managers will improve their profits by following the guidelines outlined in this book. Whether it is "tiered pricing" or "surcharges" or leases that cost $5,000 for use of a $500 piece of equipment or any of the other practices disclosed by Alex, these common practices cost the vast majority of small businesses thousands of dollars that should be going into their own pockets. Small businesses are treated by the courts as sophisticated operations with due diligence resources they simply do not have. Our laws need to be changed to protect small business people in the same manner that they protect consumers today from these unfair business practices. Merchants sign contracts of adhesion that are unconscionable but, incredibly, they are still valid in today's courts."
Robert O. Carr, Chairman and former CEO of Beyond, Former Chairman and CEO of Heartland Payment Systems
"This book highlights the types of fraud that too many merchant are facing at the hands of unscrupulous processors and others in the credit card industry. For business owners, policy makers, and regulators, this volume is a trail of bread crumbs leading us to protect ourselves and market for the benefit of business owners and consumers. A Must Read."
Jeff Irwin, Michigan State Senator (2019-2025), Michigan House Representative (2011-2017)
This is a well-written book, based on a significant body of research and long experience. It educates all parties involved, particularly merchants, in understanding how credit card processing works. The book identifies inefficiencies in the system and offers constructive ideas to improve it. It offers merchants advice on how to avoid costly mistakes and what to do should they have problems. Overall, an excellent and very useful guide.
Mehmet Uras, Ph.D.
Ayse's Café
Ann Arbor, Michigan
How to Order
The book comes with a 60-day unconditional guarantee by the author. If for any reason you feel the book did not benefit you, you may contact us via this site or email support@eft-direct.com for a full refund of the retail price of the book.